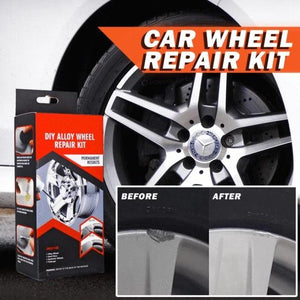 Premium Alloy Wheel Repair Kit - Easy to Use
Regular price
$43.99
Sale price
$25.99
---
FREE SHIPPING WORLDWIDE - TODAY ONLY!
Want to make your rims/wheels look brand new at a reasonable price? 
Premium Alloy Wheel Repair Kit instantly fix curb damage, scratches, slight dents, installation damages, sanding marks and any possible damage of alloy wheels, synthetic wheels, steel rims and hubcaps and more on the similar materials.
The cost of repair for wheel curb damages & scratches is around $85 - $200 at the workshops! You will save so much more!
Imagine how you would feel if your Wheel Rims are Shiny and Nice-looking without all the damages. Those shiny & undamaged wheel Rims will really make your car looks COOL, NICER & NEWER!
You will feel very proud of owning & driving your car! Wheel Rims do make a BIG difference!
BENEFITS:
Repair Any Flaw on Car Wheels
Designed to repair minor damages ranging from scuffs to scratches and dents to curb rash.
Invisible
Utilizes paint that perfectly matches the paint on alloy wheels for a flawless-looking job.

All-in-1 Tool Kit
No additional tools or materials required.

Heat-resistant
Proper repairs are able to withstand car washes and are resistant to both vibration and heat up to 266°F.

Universal
Works for alloy wheels or steel wheels and can be used for hubcaps.
HOW TO USE (INSTRUCTION MANUAL INCLUDED):
Clean the damaged alloy wheel with Alcohol prep pad.
Confirm the repair area. If it is slightly damaged, use wet sandpaper to accommodate the outlines to the repaired surface and lacquer repair area with alloy silver.
If the damaged area is large or with dents, use the repair adhesive. Press out the needed repair adhesive to a mat. Mix 2 components to a consistent grey mass with spatula provided (Finish the mixing within 2-4mins)
Fill with the mixed adhesive to overflow the damaged area. Dry for 15 mins.
Use wet sandpaper to accommodate the outlines to repaired surface. Please repeat step 3 and 4 if needed.
Clean the repair area and apply a thin layer of lacquer by brush.
Leave it at least 8 hours before using the car and full cure takes ~3 days.
PACKAGE INCLUDES:
1 x Instruction Manual

1 x Repair Glue (6ml)

1 x Silver Gray Paint (5ml)

1 × Sanding File

2 x Gloves

2 x Cotton Swabs

2 x Paint Brush

2 x Alcohol Prep Pads

2 x Plastic Spatula
INSURED WORLDWIDE SHIPPING!
Due to extremely popular demand, 

Please allow 1-3 weeks for delivery to the United States, Canada, United Kingdom, Australia, New Zealand and all European Union Countries.
Please allow 2-5 weeks for delivery to the rest of the world.
We offer Insured Worldwide Shipping with tracking number. You CAN TRACK your package all the way until it is delivered to you.
WHY BUY FROM US?

If you're not satisfied with your products, contact us and we will sort it out.
We guarantee 100% secure ordering for all of our customers.
You are our priority, we respond to all customer messages 7 days a week.